As reported by Spanish newspaper El Mundo Cuba's government raises authorize travel by Cubans abroad as tourists, as the final document of the economic reforms of the island reported Monday.
The final version of the Cuban Adjustment plan includes as one of the measures "to study a policy that provides Cubans residing in the country to travel abroad as tourists," which is one of the main novelties of the document adopted at the recent Congress Communist Party of Cuba (PCC only).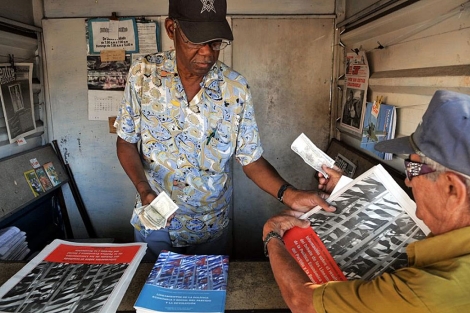 This Monday released the final version of the so-called "Guidelines for Economic and Social Policy of the Party and the Revolution", setting out the adjustments undertaken by President Castro and ratified by the PCC to "upgrade" the socialist model and overcome the serious crisis in the country.
To leave temporarily overseas Cubans need a permit to travel abroad (PVE), popularly known as "white card", which requested the Immigration and Nationality (DIE) of your town or city of residence, as well visa granted by the country to visit, among other documents.
In the "guidelines" make no mention of a possible removal of the "white card", which is ultimately the government permission to leave the country, but it is novel to be translated into an official document for the purpose of studying a policy to facilitate the travel of Cubans abroad, at least in tourism.
The final document of the reform plan includes other news about the original project but which were already announced at the Party Congress held in April as the possibility that Cubans can buy or sell cars or houses in particular.
It also includes the new policy for Cubans access to bank loans or services to the private employment sector in order to contribute to its development.
The plan of reforms undertaken by Raul Castro's government intends to update the economic model of the island without giving up the socialist planning but "it will take into account the market" and not allowing the concentration of ownership in legal or natural forms of non-state management.
In general, adjustments to crack open a small private initiative with the expansion of self-employment and involve drastic measures such as reducing the bloated state templates.
The Sixth Party Congress ratified the reform plan in a meeting held from 16 to 19 April in which Gen. Raul Castro was elected first secretary of the organization to replace his brother, former President Fidel Castro, who stepped down in 2006 by a disease.
Source
El Mundo